Playing the game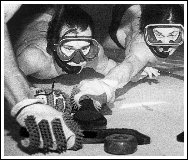 The game starts with each team at opposite ends of the pool. The squid is placed centrally on the pool bottom. The object of the game is to score a goal into the opposition's gulley by diving to the bottom of the pool and pushing the squid towards the opposition's goal.

At the whistle, the forward players race for the squid. Speed is vital here and those swimmers who are quick and agile will have the best chance of taking possession first.

During the game, players take turns to descend to the bottom of the pool to take part in the play and then come back to the surface to take breath. A player will need to hold their breath while they are under the water. Each player may pass the squid to another team member by flicking the squid with the pusher. A good team will work together to make sure that they support each other. Teams try different attacking and defensive formations in a game in an attempt to score themselves while preventing the opposition from scoring.

A gull (goal) is scored by passing a squid over the metal lip of the opposition's gulley and into the trough. When this happen, the teams return to their end of the pool before the game starts again.