Kite Types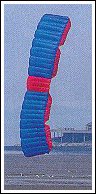 Diamond Kite
A diamond kite is either flat or curved and is the classic shape we all think of as a kite shape. It is also called a Malay or Indian kite.

Flat Kite
Flat kites come in various shapes such as square or round. They are often used for trains of kites that are tied together to look like caterpillars or dragons.

Box Kite
Box kites can be rectangular, hexagonal, tetrahedral or other shapes with frames that provide three-dimensional cells. These shape combinations give good lift and stability.

Sled Kite
Sled kites have straight stiffeners and the kite is curved in one plane.

Parafoil/ Flexifoil Kite
Parafoils and Flexifoils are a development of sled kites with multiple curves, similar to an aircraft wing in shape. Flexifoil Power Kites are precision made from tough rip-stop nylon fabric. They are high performance, two-line sport kites. (For more information see Information:: Flexifoil Kites)

Delta Kite
Delta kites have three braces or stiffeners at the top to form a Delta wing. They are light and easy to fly.

Snake Kite
Dragons, fish or caterpillar are all forms of snake kites. They have a frame and a often curved head, that continues downward into a tail. Generally snake kites are very colourful and attractive and are popular with children.

Bird Kite
With wings supported on cross frames, bird kites look like birds.

There are many variations of all these basic types.