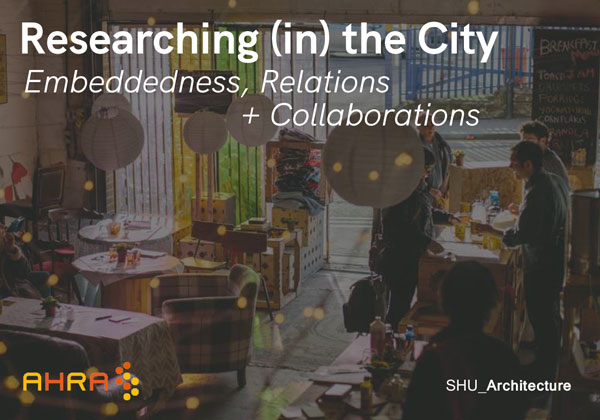 AHRA PhD Symposium 2021
Sheffield Hallam University School of Architecture
Wednesday 31st March and Thursday 1st April 2021  (online)
To attend please register at Eventbrite here
The AHRA PhD Symposium 2021, hosted by Sheffield Hallam University School of Architecture, seeks to ask how architectural research might be embedded within different organisations, places and networks in multiple ways, thus beginning to redefine the role of such research and its relationship to the city. While embedded and ethnographic methods have become more widespread, we see potential in further exploring the particular approaches, relations, networks and collaborations that emerge from socio-spatial studies within or between urban organisations, agencies,  municipalities and groups.
The symposium is delivered through collaboration with 4 organisations from Sheffield and Leeds with whom we have a relation, with each 'hosting' one of the 4 themes of the symposium.  Each strand will host a workshops for participants on day 2 in which a digital zine will be collectively produced. The zines will be collated after the event, along with student papers, and released as a publication through AHRA channels.
Practices / Care with SADACCA (Sheffield)
Spaces / Memory with East St Arts (Leeds)
Ecologies / Constellations with Regather (Sheffield)
Economies / Dreaming with Foodhall (Sheffield)
Invited Speakers          
Prof. Tatjana Schneider (TU Braunschweig)
Dr Suzanne Hall (LSE)
Programme
Please see PDF of the symposium programme here
Wednesday 31st March
09:30 Welcome and Intro from SHU_Architecture
09:50 Host introductions   SADACCA / FOODHALL / EAST STREET ARTS / REGATHER
10:45 Parallel paper sessions and discussions.
13:45 Keynote from Prof Tatjana Schneider (TU Braunschweig)
14:45 Parallel paper sessions and discussions.
Thursday 1st April
10:00 Keynote from Dr Suzanne Hall (LSE)
Practices/ Care with SADACCA
To care is to recognise our interdependence and precarity in relation to one another. What are the (public) spaces of care within our cities, landscapes and streets? How can we recognise them and support such practices to flourish across difference and what role might collaborative research have in this? What does it mean both personally and institutionally, to open ourselves to others, or to establish practices and ethics of care? What knowledges and subjectivities are required? Sheffield and District African and Caribbean Association has a long history in the city of Sheffield, established in the 1950s, by first generation African and Caribbean members of the local community, as an important social space. Its current programme includes elder care, a library with the experiences, contributions and journeys of people of African descent, work around mental health, and programmes to support young entrepreneurs establish themselves.
Spaces / Memory with East Street Arts
We are interested in the kinds of space that embedded research might reveal and/or produce; to consider the spatialises at different scales of such approaches. How are spaces produced (Lefebvre, Massey) through research practices, and what are their characteristics?  East Street Arts in Leeds is an arts organisation that works at a national level to find and transform different kinds of spaces for artists, including studios, galleries, live/work spaces, print workshops and community spaces.  ESA are also interested in questions of archives, and their role in the operation of the organisation and the production of space that it enacts. Therefore we append Space with Memory to encourage contributions that might speak to the relation of these terms through analysis of embedded research in the city.
Ecologies / Constellations with Regather Cooperative
https://regather.net/
Embedded spatial research practices situate themselves in existing relations between organisations, spaces, infrastructures, and various flows (economic, labour, knowledge etc).  Drawing on contemporary ecological thinking (Tsing, Haraway, Guattari) we invite contributions that interrogate the ecosystems that embedded research both reveals and generates.  We also introduce the term constellations to this node, as a way to think relationally otherwise, since constellations have for centuries been used to tell stories, frame myths and hold things together across different scales and temporalities.  Regather Cooperative in Sheffield is a social enterprise as an ecosystem that includes a farm, orchard, community apple press, agroforestry project, veg box scheme, and community venue. 
Economies/ Dreaming with Foodhall
https://www.foodhallproject.org/
What role can the imagination play in thinking with others? How can we move beyond seemingly inescapable constructs such as capitalism, that shape our understandings of what the spaces in which we live, work and play are and can be? Can we understand our disillusionment with current solutions, not as a dearth of hope, but as a point of opportunity for radical shifts beyond what we take for granted? (Androtti). Can we dream with others, and what are the organisations, or spaces that support this? Feminist economic geographers have drawn attention to the many ways in which we sustain ourselves that are outside of or beyond capitalism, wage labour and the market economy, that may offer more ethical and just forms of relation (Gibson-Graham, Healy). What role does research have within this picture? Foodhall is a pay-as-you feel cafe and social space that is working to extend forms of mutuality and non-hierarchical forms of sociality. They are also convening publics to establish a National Food Service that would position food as a basic right, and one which should be enjoyed with others.
Brief Selected Bibliography
Andreotti, Vanessa. "(re) imagining education as an un-coercive re-arrangement of desires." Other Education 5, no. 1, 2016. pp79-88.
Gibson-Graham, J. K. The End of Capitalism (as We Knew It): A Feminist Critique of Political Economy. Cambridge, Mass. ; Oxford U.K.: Wiley-Blackwell, 1996.
Gibson-Graham, J. K. A Postcapitalist Politics. Minneapolis: University of Minnesota Press, 2006.
Guattari, Felix. The Three Ecologies. New Edition. London/New York: Continuum International Publishing Group Ltd., 2008.
Hall, Suzanne. City, Street and Citizen: The Measure of the Ordinary. Routledge, 2012.
Haraway, Donna J. Staying with the Trouble: Making Kin in the Chthulucene. Durham: Duke University Press, 2016.
Lefebvre, Henri. The Production of Space. Wiley-Blackwell, 1991.
Massey, Doreen. For Space. Sage Publications Ltd, 2005.
Tsing, Anna Lowenhaupt. The Mushroom at the End of the World: On the Possibility of Life in Capitalist Ruins. Princeton University Press, 2015.