What is corporate portal?
In search of competitive advantage organisations are always in pursuit of new technology, new business methodologies, and more to the point unique and intuitive use of IT to gain higher profitability and competitive advantage over their business rivals.
A corporate portal or sometimes referred to as Enterprise Information Portal (or Enterprise Portal) is a web-based internal network, very much like an Intranet for provision and efficient dissemination of information and services to the employees of the corporate.  Where an Intranet could be a network for a particular section of the corporate community such as student Intranet here at SHU for the student community or the staff Intranet for the staff here at SHU, corporate portal brings together and amalgamates all resources from a very high number of sources, both internal and external.  It could be the amalgamation of the Intranets and Web resources.  More to the point it replaces the desktop on the employee's computer and becomes the entry point of the user to all internal and external resources including the Intranets, business partners' extranets, internal and external Web-based computing applications and Internet resources.  It brings together all the required tools and applications for both collaboration and content management to one point of access for the employees and furthermore it allows the employee to customise the portal's entry screen or his desktop.  It is a way to ensure that the employee has all the tools he requires to carry out his work in efficient, timely, and quality manner.
In essence this is all about managing a problem and the problem is "information overload".  According to Herbert Simon, an economist, information consumes attention of the recipient.  A wealth of information is therefore likely to create a poverty of attention.  The exponential increase in information technology deployment and the Internet has also had the adverse effect that employees now need to spend considerable amount of their time to process and classify the bulk of information.  In effect, there is too much information, the speed of delivery of information is extremely high and the sources of information are very varied.  Some of the information is organised (product, order, customer databases) and some are disorganised (information arriving via email, collaborative forums, transcripts of discussions, memos).  In particular lack of organisation of information could mean business decisions being based on out-of-date, incomplete, and inaccurate information.
<![if !vml]>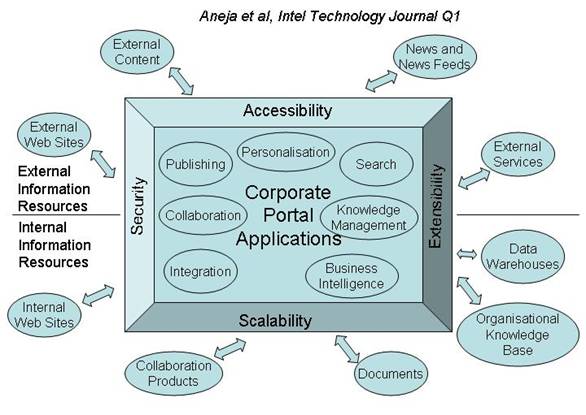 <![endif]>
Consideration requirements for the implementation of corporate portals include:
Network security, VPN solution needs including VPN connectivity between the sites, data encryption

Management report production of portal usage and potential misuse of infrastructure

Bandwidth traffic requirements and priotorisation

Scalability, reliability, stability, availability and central management including remote administration of the infrastructure

Integration of legacy systems, databases, and Internet-based resources
Corporate portals consist of:
Collaborative applications

Analysis tools

Document flow information reporting

Web publishing applications and tools

Enterprise Resource Management

Supply Chain Management

Customer Relationship Management

Search, categorisation and customisation of information in an attempt to deal with information overload problems

Online employee training resources

Online resources to enable off-the-site personnel
Corporate portal development strategy:
Identify the resources, both in terms of information, applications, and software tools that portal must provide access to.

 

Resources can be both structured and unstructured information, existing business systems including legacy systems and all repositories of data.

Classify all the resources into a number of categories for ease of searching and browsing.

Build a Web-based architecture for the publishing and dissemination of resources.

 

Technical solution should include both hardware and software requirements.
Publish the resources.

 

Personalise the content to the needs of the users.

 

The architecture or the technical solution may enable the user to personalise to requirement.
Potential Payoffs are:
Increased employee productivity

Reduction of cost of system maintenance

Reduction in cost of staff training

Improved diversity and quality of training material

Improved flexibility for extending the Infrastructure with new hardware and software components
Efraim Turban presents a model for defining four major categories of portals.  State and explain the categories.
See "Electronic Commerce, A Managerial Perspective" by Turban et al. ISBN 0-13-098425-6.
With the view to above, compare a popular Internet portal with a corporate portal.
Business to Employee or (B2E) is defined as a business model.  Explain it.  What is the relation of the B2E with the corporate portal?
What is knowledge management? What does it have to do with corporate portals?